Keep inventory synced
in real-time between
AIMS360 & Faire
Focus more on your business, not your inventory. Trunk is beautifully simple software that makes multi-channel selling easy.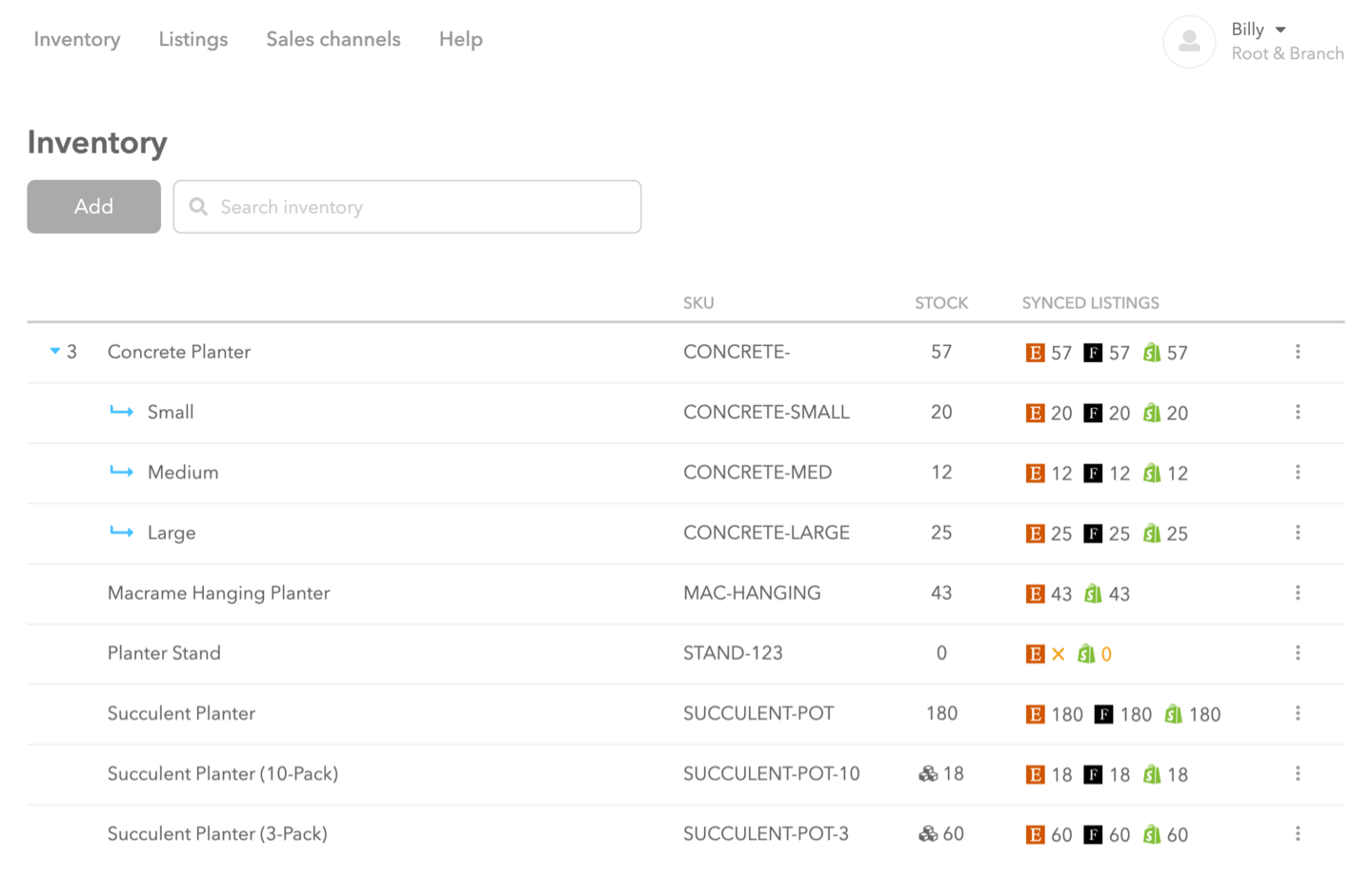 As a supply shop with multiple selling venues, inventory management was the most difficult part of my job. Trunk allows me to manage my inventory from one location, saving me hours each week. I no longer worry about overselling an item or missing sales because inventory is depleted on one venue. It's like hiring an inventory control assistant!
Never oversell again with real-time
stock level syncing you can depend on
Ever had to let a customer know that you oversold them something? With Trunk, you'll never have to go through that pain and embarassment again. We've worked hard to build inventory syncing that works well and is always accurate across your sales channels, even during your biggest sale of the year.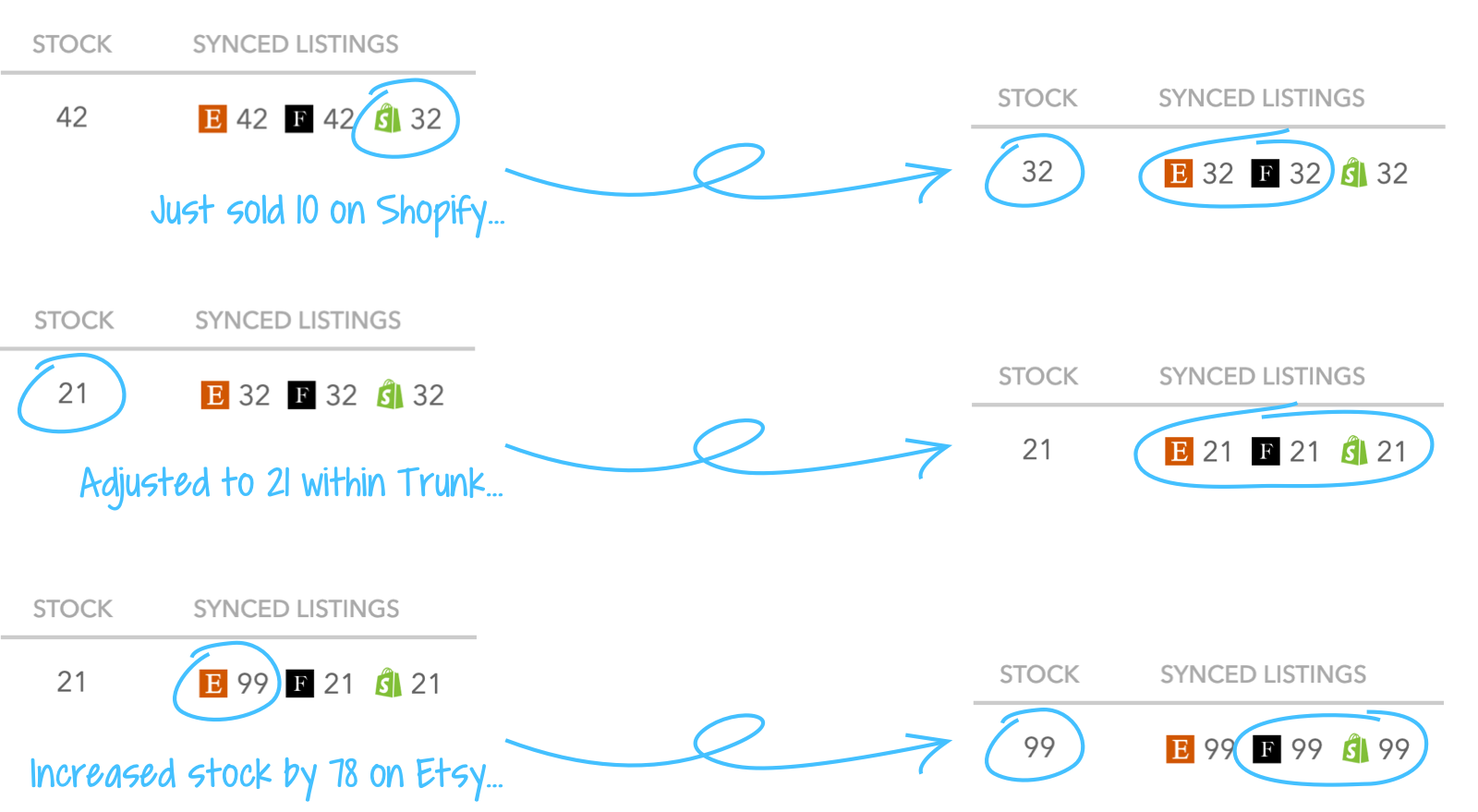 Get set up and synced within
minutes even if you have thousands of SKUs
Just connect all your sales channels and Trunk will build its own centralized inventory from your listings. Those that share the same SKU will automatically be linked to each other! And like a good assistant, Trunk will continually monitor your sales channels for any new, updated, or removed listings so that everything is always up-to-date.

Trunk is lightning fast and the only reason I was able to expand from Etsy to Shopify and eBay. I have over 200 SKUs in my shop and can fulfill over 100 orders per week, so manually updating each one just wasn't an option. Trunk is one of the best-kept eCommerce secrets and should be a common-sense tool for any multi-channel seller.
Although we are a small business, we have thousands of items to keep track of across multiple platforms. Trunk has made it possible for us to keep inventory across both Etsy, Shopify and Faire with ease. Support has always been friendly, helpful and prompt. This is the app that we were waiting for!
Have the confidence to grow
your business by selling in more places
Still on the fence about being a multi-channel business? With Trunk, you'll finally have a good enough reason to take the plunge. And there's no limit to how many sales channels you can connect. Trunk works with businesses of any size ready to take their operations to the next level.

Build smart bundles and kits that
sync with each other and adjust like magic
Trunk makes it easy to create powerful configurations that depend on each other. If one changes in quantity, the others adjust based on how they're configured. If you have kits or want to track materials, this one's for you!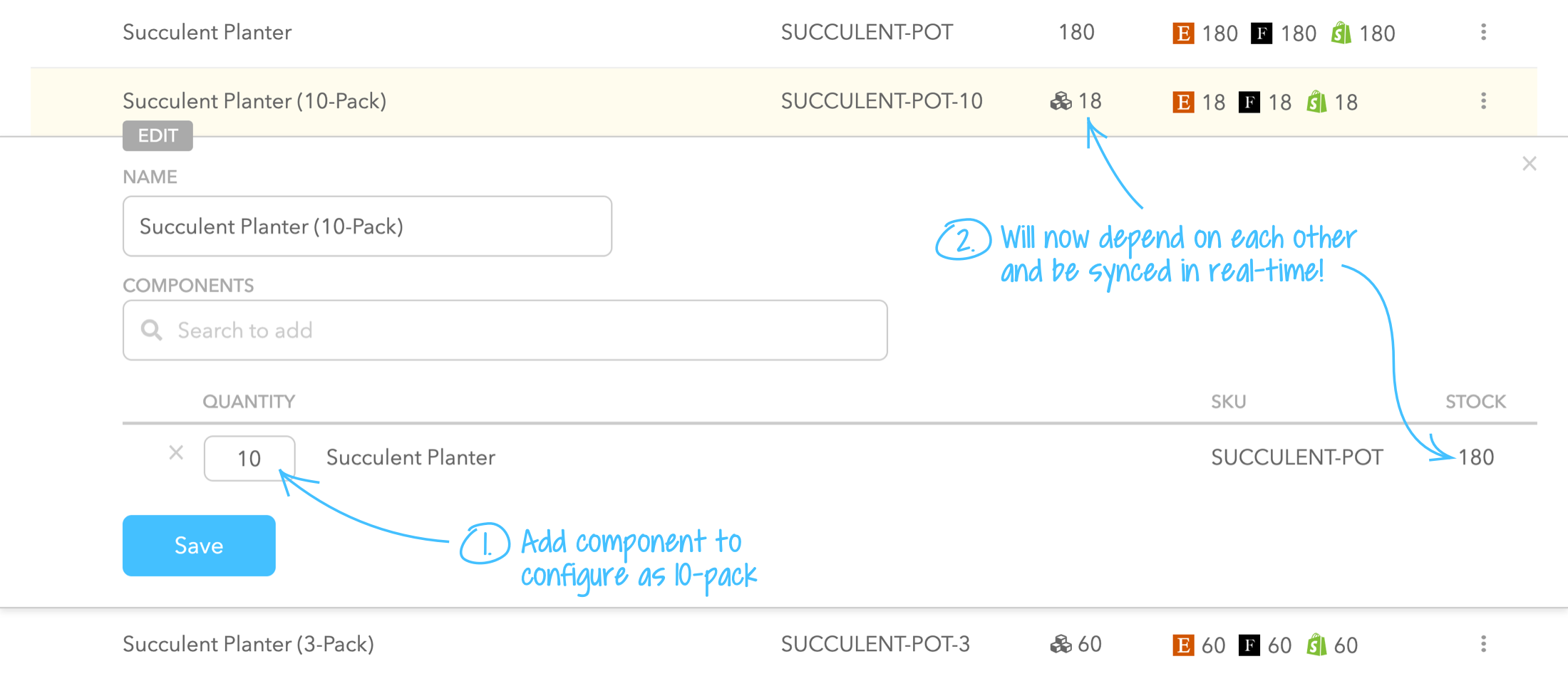 As a website designer, I've been looking for something to connect my preferred host platform, Squarespace, with other selling and POS systems for a long time. Trunk is the perfect solution for my clients who want to have their product inventory automatically tracked between platforms. Additionally, Trunk's interface is extremely user friendly. You don't have to be techy or a web developer, like me, to use it!
Is there a free trial?
Yep! It's a 14-day free trial and includes all features with no credit card required. If you need more time, just let us know. After the trial is over, you'll need to subscribe to one of our pricing plans to continue using Trunk.
Do I have to download anything?
Nope! Trunk runs in the cloud 24/7. All you need is a web browser to access Trunk—there's nothing to install on your computer. More specifically, Trunk is a standalone web app that you can connect your sales channels to.
How long does setup take?
It only takes a few minutes to connect your sales channels assuming you already have matching SKUs.
Does Trunk work internationally?
Yes! For example, Trunk can connect with eBay UK and Australia and work with all international currencies.
What's onboarding like? Is there a fee?
Nope! There's also a walkthrough within Trunk that will help guide you through connecting your first sales channel. We'll also be available by live chat if you need additional assistance.
Will Trunk be able to handle my large order volume or big sale days?
Yes, we should! Our largest customers are doing more than 50,000 orders per month.
Does Trunk play well with other integrations?
Yes! Many of our customers are using other integrations alongside Trunk. For example, Trunk can detect changes in stock levels made by other integrations and sync accordingly.
Does Trunk integrate with any fulfillment platforms like ShipStation or ShipHero?
Not yet but we have plans to! If you've already integrated them into your processes, Trunk should be able to play nicely with them.
What if I'm not yet using SKUs on my listings?
That's fine! You can still connect your sales channels and add SKUs to your listings as you go. Trunk will automatically pick up on those and sync them to your inventory as you populate each SKU. For example, starting out, you might want to first add SKUs to your most high-volume listings since those might be more important to sync.
What if I have duplicate SKUs?
By default, Trunk doesn't link duplicate SKUs (but we do support it). That means Trunk will link one unique SKU per sales channel and keep the other duplicates unlinked. You can later fix the duplicate SKUs and Trunk will automatically link them as soon as they become unique. If you do need to sync duplicate SKUs, we have a feature for that.
Will I need a separate subscription for each store on the same platform?
Nope, one subscription will cover all your sales channels! For example, if you needed to sync between 10 different Shopify stores, you will only need to pay for one subscription.
Does Trunk comply with GDPR?
Yes! We take your privacy and data very seriously. Please review our Privacy Policy for answers to your compliance questions and more.
Will Trunk support more e-commerce platforms in the future?
Yes! Our plan is to integrate with as many e-commerce platform as we can. We're currently beta testing or have plans to integrate these in the near future:
AIMS360
ApparelMagic
BigCommerce
Bonanza
Discogs
Facebook Shops
Google Shopping
Houzz
Magento
NetSuite
Storenvy
TikTok
Walmart
Wix
We need early adopters! If you're interested in any of these platforms or want to suggest one not listed, please contact us or visit our feedback board.
Which platforms are currently supported?
AIMS360, Amazon (including Amazon Handmade), eBay, Etsy, Faire, QuickBooks Online, Shopify, Squarespace, Square, Tundra, and WooCommerce. More integrations coming soon!
How does syncing work?
Trunk keeps your stock levels synced no matter how or where the change happens. For example, you can manually adjust stock levels on Etsy, receive an order on Shopify, refund an order on eBay, and Trunk will be able to keep it all synced, just as you'd expect. That means there's no need to specify a master inventory since Trunk goes by timestamped changes. Trunk essentially becomes the master.
How does Trunk determine which way to sync when I first connect my sales channels?
Trunk builds its own inventory and stock levels from your sales channels' listings. That means the first sales channel you'll want to connect is the one with the most accurate stock levels. Once Trunk has built its own inventory, it'll then sync its own stock levels to any new sales channels you connect later on.
How quick is the syncing?
If your stock levels change due to an order, the sync happens in real-time. If you manually change stock, Trunk is still able to pick up on it but it can be a few seconds delayed depending on the platform.
What else does Trunk sync?
At the moment, Trunk only syncs stock levels and is really good at it (did we mention it's in real-time?). We're currently working on being able to sync listings and orders as well.
Am I allowed to have different titles, descriptions, prices, etc. on each sales channel?
Yes! Trunk doesn't care about your listing content when it comes to syncing stock levels so feel free to keep them individualized for each platform you sell on. All you need to do is make sure the SKUs match, that's it!
Can Trunk handle syncing manual stock changes?
Yes! Trunk can sync stock levels across your sales channels regardless of how they were changed. That means you can simply update stock levels on one of your sales channels which Trunk will then pick up on and sync right away to your other sales channels.
Can I do bundling and kitting within the same sales channel?
Yes, most definitely! Check this page out to learn more about how bundling and kitting works.
Does bundling and kitting work with dynamic configurations?
Sadly not yet. Each bundle must be static and always depend on the same components. For example, if your customers can build their own bundle, then each possible bundle configuration would need to have its own SKU so that you can then configure the proper dependencies within Trunk.
Does Trunk work with variants?
Yes! Trunk can sync stock levels between variants based on SKU just as you'd expect.
Can Trunk sync between multiple sales channels on the same platform?
Yes! For example, Trunk can sync inventory between any number of Shopify stores.
Is there an affiliate program?
Not yet but we're in the early planning stages for one. Please fill out this form if you're interested in becoming an affiliate with opportunities for recurring commission.